Hello, dear HYIP investors. This article will introduce Btcjet.io which provides a medium term investment plan, and you can earn profit every minute. It started on 30th Oct 2019. Admin bought Standard listing on my website yesterday. My two withdrawal requests were processed successfully into my BTC wallet. Now let me write its review in details.
Already scam, don't invest!
Investment Plans
The minimum deposit is 0.005 BTC(0.027 ETH or 1500 Doge), and you will earn 4.32% profit daily. Profit is added every 60 seconds. Your deposit works for lifetime until you withdraw it. To withdraw the initial deposit, you should pay 15% fee. So I think you should keep your deposit active for at least 5 days to guarantee your net profit. Of course, the longer your deposit remains, the more profit you will get.
Referral Commission
Btcjet.io offers 7% referral commissions for its promoters. If you join under my link, welcome to submit your RCB request on top menu and you will get 7% of your deposit back once I withdraw it to my wallet. For more details, please read our RCB rules.
Payment Options
Btcjet.io accepts Bitcoin, Ethereum and Dogecoin as the payment gateways.
Withdrawal Type
All your withdrawal requests will be processed manually within 30 minutes. The minimum amount to withdraw is 0.0005 BTC. Btcjet.io doesn't charge any additional commissions for profit withdrawals. The fee for deposit withdrawal is 15%.
Listing Type: Standard($250)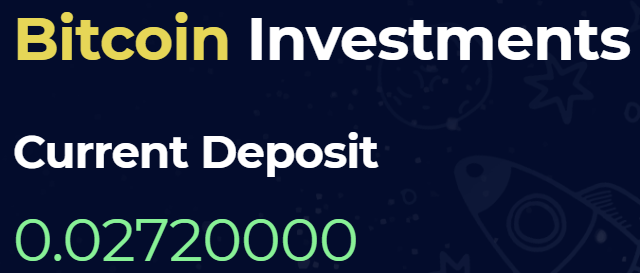 More Information
Btcjet.io designed an original template for their website. Admin bought EVSSL and company certificates for its project, including UK and Hong Kong company legal certificates. You can find the two certificates in the "Limits" page at their footer menu.
For now, their website supports 6 languages and you can choose the one which is suitable for you.
If you want to see your history statistics of withdrawals. Then login your account and click the "STATISTICS" button on top menu, it will show you all the withdrawal data with crypto HashID.
For Btcjet.io, I just write here. If you have valuable opinions or payment proofs, then welcome to comment here, I am always glad to see you.
Program Latest Updates
6th Oct 2019: Just as promised two days ago, admin bought 1920px top banner today, this is a trusted admin, thanks for support my business.
12th Nov 2019: New cryptocurrency(Dash) and Russian language were added
DASH Min Deposit is 1500.00000
DASH Min Profit to withdraw is 200.00000
DASH Min Deposit to withdraw is 200.00000
15th Nov 2019: It stopped paying, don't invest any more. Paid for 15 days online.