Hello, dear HYIP investors. Hope everything goes well with you. If many people are infected by Coronavirus disease in your country, I hope you can stay at home and don't always go out. During the past 4 days, a lot things happened on my website, so I need to make a summary. Hope you can get the information which you want from it.
(1) Just yesterday, according to their official news:
Limpid.capital has concluded an insurance contract with a world-famous insurance company Allianz SE, which is now a guarantee of return on investment. The term of the agreement is 2 years. The amount of insurance is 30,000,000 USD.
You can find the insurance certificate, which contains the terms and conditions of the insurance, by link.
But frankly speaking, I am not an expert in insurance industry, so please make your own judgment whether the insurance will guarantee the safety of our money. If you have friends who works in insurance field, you'b better consult him in details before investment.
(2) All my personal investment packages expires until yesterday, but the total investment is $60, so my net profit is only $15. It is a pity that I didn't invest much more one month ago. Because at that time, I thought to invest $20 daily, so that my monthly investment will be $600 totally. But I didn't know that I could only have 3 active packages in each investment plan, so I missed the chance.

(3) Limpid.capital published a new plan, with $100-5000 investment, you will earn 1.4% daily for 100 days and principal back in the end. Amount limit is $200000 totally. Just as I am writing this article, there is still $195761 left. From its new plan, we can know that its profit is much higher than all old plans. This is not surprising, because each hyip project is facing financial difficulties currently. As an HYIP investor, you should not invest what you can't afford to lose. So judge your financial status before joining each project.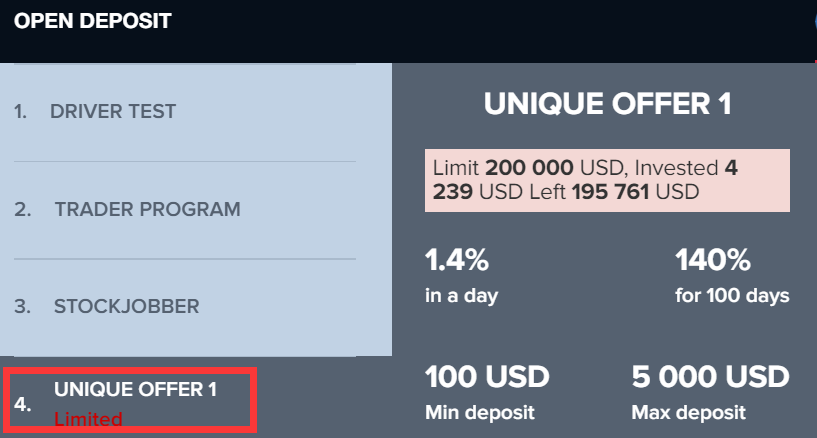 (1) Yesterday, Unitex-capital.com added USDT as new payment options. Now you can deposit with PerfectMoney, Payeer, Bitcoin, Litecoin, Ethereum or USDT.
(2) $450 of my deposit expired yesterday, I tried to withdraw it to my PerfectMoney wallet. After 30 minutes, I got all money successfully into my wallet. After thinking twice, I reinvested $500 again, my choice is the PREMIUM plan, namely 1.6% each working day for 28 working days. Hope everything will go well in the future.

If you are a regular reader on my blog, you should know that Forex-brokers.club published two new investment plans one week ago, but no referral commissions will accure for these two plans, in case of somebody scams the commissions. Because your deposit is not locked, for example, if you deposit now and withdraw principal 5 minutes later, then commissions will be scammed. So no referral commissions will generate and no RCB for these two plans.
Hex-land.com provides two new plans 3 days ago. For Standard plan, with $25-5000 deposits, you can earn 1.9% daily for 15 days and principal back; For Advanced plan, with $25-10000 deposits, you can earn 2.2% daily for 36 days and principal back. Compared with former old plans, your initial deposit will not be returned partially every few days, but they provide you with higher profit.

These two plans are in the Hexbank package, you can find them when you deposit. Admin offers 2-tier referral commissions for these two plan, namely 5% and 2%.
Invexpert.biz bought 728*90 banner for one week again, thanks admin for financial support. But I hope you can buy Standard or Premium listing on my website earlier next time, it will be more helpful for you to attract investors.
Roboton.org
My investment cycle expires yesterday, and I reinvested $250 again into the 30 business days plan. But unfortunately, admin claims to stop payment hours later. I made $46 dollars from my personal deposit during the past days in this project, excluding listing fees. Roboton.org paid for 125 days online totally, it is already a good program, because you can earn money if you join early. Hope your next great program will come soon.
Madana.club
Two days ago, Madana.club downgraded his listing from Premium to Standard, and cancelled my withdrawal request. I already realized that admin doesn't have a good financial status in the past days, because he only allowed me to withdraw part of the daily profits, but not all profit. You should know that it is only online for 35 days, and didn't spend much money on promotion, why can't even pay my daily profits?
After thinking twice, I decide to delete it from my website, but not change it to scam status, just deleted it directly. In fact, Manada Club has a bug in its profit calculation system during all past days, but admin never recognize it even if I talked to him. Let me tell you why it is a buy.
According to its investment plan, you can earn 2% daily for lifetime and principal can be released anytime you want. For example, if you deposit $100, then you can earn $2 daily, if you only withdraw your daily profit, then you should always have $100 deposit, right? Because you withdraw profit, not principal. But in Madana Club system, if you withdraw daily profit next day, then your deposit will be $98, that is to say, the system only shows your daily profit, but you can never withdraw it, all your withdrawal amount will be deducted from your initial deposit. When you withdraw $100 totally during next 50 days, your deposit expires. What a bad calculation bug! So this is the main reason why I deleted it, I don't think it can really pay investors.