HYIP depression comes, more and more projects stopped payment these days, so that is the reason why I didn't invest with my personal money these days, either. I also advise you to think twice before investment because everything is bad these weeks. In this article, I will write something about Limpid.capital, Watfordcorp.com, Forex-brokers.club and 3storich.com. Now let's step into the topic.
Admin made a small addition to the Personal account, and added a video instruction, including adding funds to the balance, opening a deposit, ordering payments and internal currency exchange. You can find the video here: https://youtu.be/1NvaewIq5Ag
You may find some negative feedbacks about this project on some hyip monitors and forums. That was because Limpid.capital reinvested members' money into deposit plan automatically without permission, see the attachment below:

I want to tell admin that it is not worth for only $300. In return, Limpid.capital got several negative statuses on other websites, and this will have a very bad impact on it. Except this, I don't find other problems. And my daily profit withdrawal is normal now. Hope they can keep this situation for the next weeks and don't scam very soon.
Admin hold an online conference with the founder of Watford LLC Richard Watford on March 30,2020 at 16.30 GMT. Watford LLC shareholders will have an opportunity to ask questions the founder of the Holding. The link will be available at the day of the event.
Watfordcorp.com has already been online for 90 days till now. Everything performs well during past 3 months. I didn't attend the online conference because of my personal time problem, but I already told this piece of news on 28th on my news section. If you want to know what Watford said in the conference, you can click the link below to see the video. Hope it was a positive conference and you can gain confidence there.
https://www.youtube.com/watch?v=gEuf-VIpI6U
Forex-brokers.club
This project already stopped payment 4 days ago. It is sad that I lost $101.2 because of my personal deposit. In fact, the admin is still sending emails every day and want to cheat more money, so please be careful and don't be deceived. Look at my pending withdrawals on 27th March:

3storich.com
3storich.com really make me disappointed recently. The admin even wanted to pay insurance when he bought Premium listing on my website. But only 16 days later, admin stopped payment and was confirmed to be a scam. I lost $158 in this project. On last Friday, admin told that he was upgrading the payment system and everything would be back to normal on Monday:

But two days later, he still didn't process pending withdrawal requests. What's more, admin sent an email on Monday that the upgrade is still on the way and everything will be normal soon: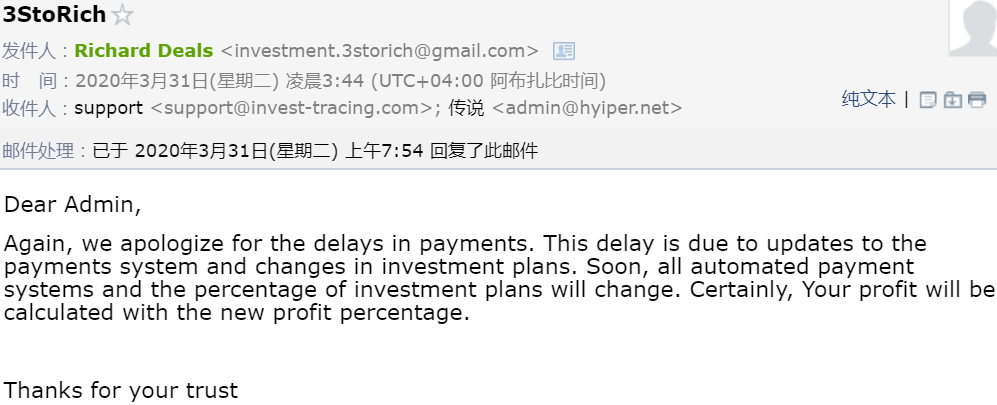 I think the upgrade is only an excuse, and I moved it to scam status today. So don't invest their any more.