Mmmpo.me is a long term high yield investment program which provides weekly profit deposit plans. It has been online since 12th Sep 2019. The admin bought "Standard Listing" two weeks ago. My last withdrawal was received successfully last week. In fact, I was just waiting for the admin change the website template, plans and other information of the program, but two weeks passed and still no further action, so I decide to write a brief review temporarily.
Already scam, don't invest!
Investment Plans
Mmmpo.me only provides one plan. With a minimum deposit of 30 dollars, you will earn 1% weekly for 120 days and principal included.
It seems that such plan will not be attractive to HYIP investors, because "1% weekly" is really too low in HYIP industry. Some investors may think of a word called "sleeping HYIP", right? Sleeping HYIPs are programs which only operate silently in early stage, they just want to be recorded on the Internet, such as monitors or blog, but they don't want investors to deposit. They are just waiting for another prosperity coming in HYIP industry, when the prosperity stage comes, they will change investment plans and their whole websites, then start to promote widely. Of course, some sleeping projects will "sleep" forever because the prosperity stage does not come for a long time and the admins just give up.
For my part, I am not sure Mmmpo.me is a sleeping HYIP or not, because I am not familiar with the admin and in fact, nobody can guarantee a sleeping HYIP will wake up or not, because it has relationship with the whole industry in the future.
Payment Options
Mmmpo.me only accepts PerfectMoney currently.
Withdrawal Type
After you make a withdrawal request, funds are usually available within 12 business hours.
Referral Commissions
Promoters can only get 1% ref commissions. Low referral commission is the same characteristic for all sleeping HYIPs.
Listing Type: Standard Listing($250)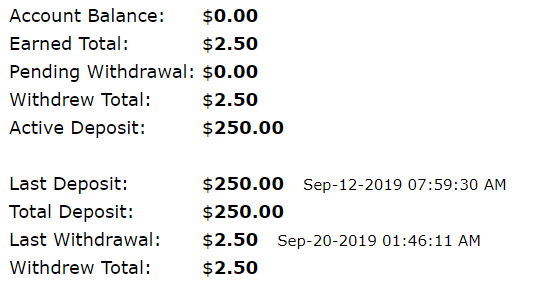 For Mmmpo.me, I will just write so much, because sleeping HYIP is very simple, including its website template, plans and so on. If it "wakes up" some day in the future, I will rewrite a normal review for it. Thanks for reading and goodbye.