Anola is a newly launched investment program, which just was online 22nd July this year. It has professional design and functions, so I joined early and invested $1500. My first withdrawal request was processed instantly yesterday. Now I will introduce it to you.
Started: 2021-07-22

My Deposit: $1010

Investment Plans: 0.6%-1.2 daily for 22-244 days and principal back; 0.4% daily for 72 days and principal back; 0.45%-0.65% daily for 100 days and principal back;

Compounding Function: available

Referral Commissions: 8%-2%-1%-1%-1%

RCB: 8% of your deposit amounts

Payment Options: BTC, TRON, TETHER, Cardano, Cosmos, BCH, BNB, DASH, DOGE, EOS, ETH, IOTA, Chainlink, LTC, Nano, Neo, Stellar, Monero, Ripple, Zcash

Withdrawal Type: instant

Minimum Withdrawal Amount: $20 USDT; 2 TRX

Global Languages: 9 languages

Socials: Twitter; Telegram; Youtube; Instagram
Investment Plans
Algorithm:

Minimum deposit $35, you will earn 0.6%-1.2% daily for 22-244 calendar days and principal back

Fixed rate for ETH:

Minimum deposit 0.35 ETH, earn 0.4% daily for 72 days and principal back

Fixed rate for BTC:

Minimum deposit 0.015 BTC, earn 0.45%-0.65% daily for 100 days and principal back
Referral Commissions
| | | |
| --- | --- | --- |
| | Required Deposits | Commissions |
| OPERATIONAL | $0-$10000 | 8%-2%-1%-1%-1% |
| TACTICAL | $10000-$50000 | 9%-3%-1%-1%-1% |
| STRATEGIC | $50000 | 10%-3%-2%-1%-1% |
How to deposit and withdrawal?
❶ Choose "overview" in wallets section
❷ Click the Plus sign to activate the wallet which you would like to use

❸ Click the "Deposit" button:

❹ Type into deposit amount and click "Next" button to complete replenishment: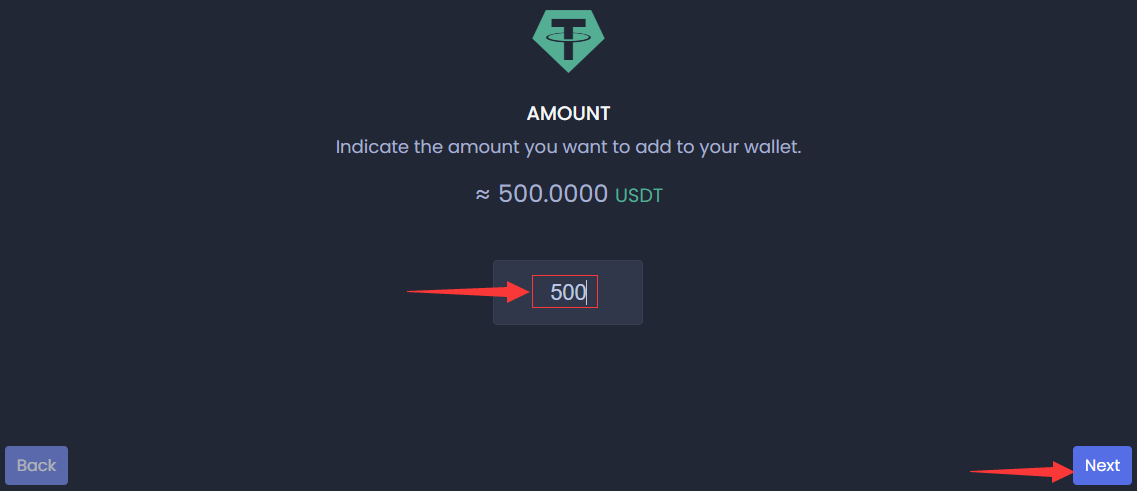 ❺ Click the "Algorithm" button in Investments area:

❻ Then type into investment amounts, click the "CALCULATE" button to see your investment details, then click the "INVEST" button to complete: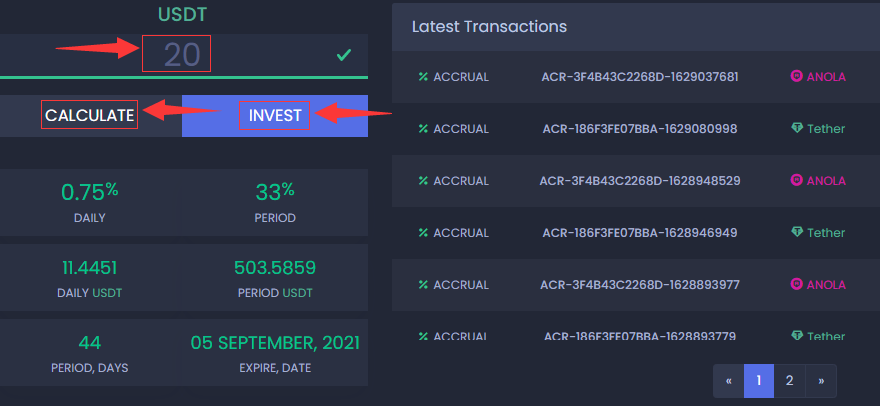 Cold Wallet Earning
1. FROM ACTIVE INVESTMENTS: RECEIVE 0.01% OF ACTIVE INVESTMENTS IN YOUR ANOLA COLD WALLET DAILY
Verify your Account to receive interest on Cold Wallet. Then invest in to Algorithm (Note! We add the percentage only when you open a deposit in Algorithm). You will get 0.01% of the amount you invested every day after investing in Algorithm.
2. FROM HOLDING ANOLA: RECEIVE 1% MONTHLY OF CAPITALIZATION ANOLA COLD WALLET'
If you keep accumulating Anola's savings, we will credit you 1% of your savings every month.
To receive Cold wallet earnings, you should complete KYC verification, which you can find the section in your account, click it to fill in your personal information and upload passport or driving license.
How to use compounding function?
Click "investments→Algorithm" in your panel, then you will find a button called "Enable Capitalization". When you enable it, then your earnings will be reinvested; When you make it disabled, then your daily earning will go to your balance:

Summary
Anola looks very professional from its appearance and functions, the most important is that it just launched for 3 days online. I think it is a potential project and we have more chance to make money here, so I invested $1500 to have a try. After registration, don't forget to set your pincode and complete KYC process, so that you will earn more profits and have more privileges. You can find their social links above in my article, please follow their Telegram channel to keep up with the latest updates.
When you meet problems, you can talk with their online support anytime who are 24 hours online to help investors.
2021-09-05: Anola processed my $1517 withdrawal request today, and I reinvested $1010 into it. By the way, Anola was moved into LEADERS section on my website, congratulate.
HYIPer.net » [SCAM] Anola.io Review: 0.6%-1.2% daily for 22-244 days and principal back