Cloner is a high yield investment program which started on 30th July this year. It provides a medium term investment plan and you can earn 4%-6% daily until 220% reached. I invested $200 three days ago and already withdrew successfully into PerfectMoney account. Now let me write details to you.
Started: 2021-07-30

My Deposit: $200

Investment Plans: 4%-6% daily until 220% reached, and principal included (4.5% when I am writing this article)

Minimum Deposit Amount: $30 PerfectMoney, 0.002 BTC, 0.05 ETH, 0.2 LTC, 200 DOGE, 0.2 DASH, 500 TRX and 50 USDT.

Referral Commissions: 5%-2%-1% (no need to have an active deposit)

RCB: 5% of your deposit amount

Payment Options: PerfectMoney, Bitcoin, Litecoin, Dogecoin, Tron, USDT(trc20)

Withdrawal Type: instant

Minimum Withdrawal Amount: $1 Perfect money, 0.0005 BTC, 0.006 ETH, 0.001 LTC, 5 DOGE, 0.001 DASH, 5 TRX, 5 USDT

UK Company Registration: "THE CLONER GROUP LTD" on 15th June 2021

Socials: Telegram Channel; Telegram Group

Token: available
Investment Plans
Minimum deposit $30 PerfectMoney/0.002 BTC/0.05 ETH/0.2 LTC/200 DOGE/0.2 DASH/500 TRX/50 USDT, you will earn starting from 4%-6% daily until 220% ROI reached and principal included. Daily maximum profit can be maximum 6%. The interest rate of daily income for new investments will grow by 0.1% daily to 6%. To upgrade your previously created deposit to the common the interest rate level, it is enough to make reinvestment or new deposit at the same payment system. Every day at 00:00 GMT, the common interest rate growth +0.1% daily. The daily interest rate of your deposit payment system is fixed for all income charges, untill you won't upgrade your deposit. When I deposited two days ago, the interest rate is 4.3% daily, and today it is 4.5% daily. After 17 hours and 53 minutes when I am writing this article, it will be 4.6% daily. You can see the countdown at the right side of your panel: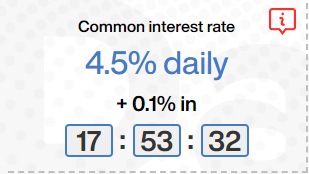 Income charges are occur every 24 hours, the principal of deposit is included in payments, every cryptocurrency works floatly to usd.
How to invest?
❶ Click this link to register an account: https://cloner.cc/m/yuninv
❷ Click the "Make Deposit" button:

❸ Choose payment system, type into deposit amount, Click the "Create Deposit" button to complete investment: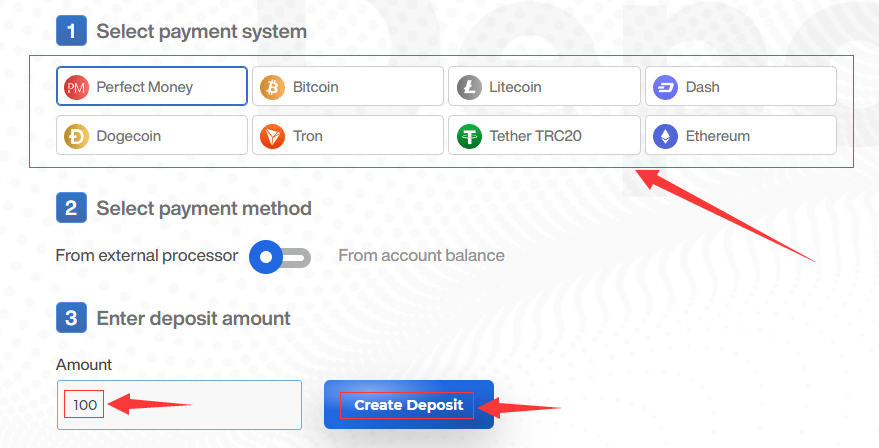 Summary
Cloner is a well designed HYIP project which involves an attractive investment plan, because initial deposits is already included in daily payment and you can break even within 16-24 days(with my 100% RCB). From its website, we can see a translation button on top, but currently there is only a English section, but I think more languages will be added in the near future. Also, we can find a video on its homepage, but the video is only 11 seconds and maybe a more wonderful and detailed video review will be displayed after several days. From your personal panel, we can find a Token button which shows "soon", let's just wait when will the Token launch and how much it costs. From these points above, I think Cloner is still under its early stage, although we don't know hong long it will pay, we can judge that the project will have more updates.
---
201-08-29: Cloner launched its own token now, and the price rose every day these days. But I don't plan to buy it. Hope most investors can make money here.

201-08-30: PerfectMoney withdrawal is still instant, but Trx withdrawal has been pending over 24 hours already. Hope everything is fine, but don't invest currently until I update.
HYIPer.net » [SCAM] Cloner.cc Review: 4%-6% daily until 220% reached