Biswap is the first DEX on BSC network with a three-type referral system. You can enjoy profitable yield farming and exchanges with the lowest fees(0.1%) in DeFi space. You can earn commissions from Farms, Launchpools and Swaps. This is profitable and stable program which is unlike HYIP projects. So if you are looking for stable investment project, welcome to earn profits here through STAKING.
Started:

2021-05-24

My Deposit:

$8160

Staking Profit:

earn 200%-300% yearly without compouding; earn 800%-900% yearly with auto compouding. Profit gives daily and initial deposit can release anytime without fees

Minimum Deposit Amount:

no limit

Referral Commissions:

5% from their earnings on Farms and Launchpools

RCB:

NO

Payment Options:

all main crypto currencies(support 45 cyrptocurrencies now)

Withdrawal Type:

instant

Minimum Withdrawal Amount:

no limit

Social:

Telegram Channel; Telegram Group; Twitter; Medium; Youtube


How to earn from Staking (Launchpools)?
❶ Install MetaMask on your browser or other devices, click download link. You can also see the video tutorial below:
❷ Connect MetaMask to Binance Smart Chain. Choose the "Mainnet", not "Testnet": https://academy.binance.com/en/articles/connecting-metamask-to-binance-smart-chain
❸ Click to copy your Metamask wallet address. Fund your Metamask account with USDT(BEP20), together with several dollars of BNB for transaction fees. Remember that must be BEP20 network.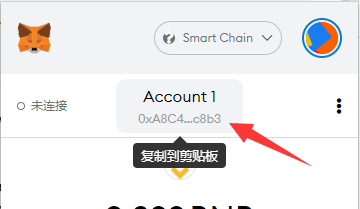 ❹ Open this link: https://biswap.org/?ref=11c4b0587b452179aa8e, click the "Exchange" button on your Biswap panel. Swap USDT in your Metamask wallet into BSW:

❺ Click "Launchpools→Stake BSW", then click the Plus sign to Staking; Click the Minus sign to Withdrawal; Click the Harvest to collect Earned BSW; Click the Compoud to reinvest Earned BSW:

Why I choose it?
Project operated by Professional team
Real crypto staking program with authority and reasonable profit
Professional designed template and functions of its website
BSW token price is not high currently and has more potential to be raised up
Register: https://biswap.org?ref=11c4b0587b452179aa8e
---
2021-08-20: I am compounding always and won't withdraw currently, so there is no payout updated. Now my totally investment value raises from $2000 to $4000.
2022-03-21: BSW was listed on Binance today.
2023-01-20: BSW was added on OKX exchange.
HYIPer.net » Biswap.org Review: stake to earn BSW and other Tokens