Pegasus.cx is a high yield investment project which started on 07th Feb 2020. It mainly provides long term deposit plan and you can earn 1.5% daily for 200 days and principal included. I invested $400 two days ago and put it into Premium listing. Now let's see its details.
Register: https://pegasus.cx/auth/register/?ref=jlK5emR0R5q

Started: 2022-02-07

My Deposit: $400

Investment Plans: 1.5% daily for 200 days and principal included

Deposit Fees: 5%

Minimum Investment Amount: $400

Referral Commissions: 8%-4%-2%

Dividends: 6% fees redistributed to every active investor

RCB: give back 8% of your deposit amount if you use my register link

Payment Options: EPAYCORE, BTC, BCH, ETH, LTC, TRX, DASH, DOGE, USDT, ADA, XLM, XMR, USDC, BTG, ZEC, NEO, DGB, UNI, XVG, QTUM, BAT, ARK, RVN

Withdrawal Type: instant

Minimum Withdrawal Amount: $30 (you can only withdraw to BTC wallet currently)

Withdrawal Fees: 5%

Social Accounts: Telegram Group; Telegram Channel; Discord; Twitter; Facebook
Team Leader Referral System
A team leader will get 20% commissions on a 9-levels referral system, which is 9%-5%-3%-1%-0.6%-0.5%-0.4%-0.3%-0.2%.
Condition to become a team leader:
1- The turnover of the first-level team has to be equal to 25K USDT.

2- Minimum deposit $500.
Along with the 9-levels and 20% commissions, a team leader will get a one-time bonus each time the turnover of his first-level team reach the following amount:
25K USD turnover bonus: 500 USD withdrawable + 250 USD active deposit

50K USD turnover bonus: 1K USD withdrawable + 500 USD active deposit

100K USD turnover bonus: 2K USD withdrawable + 1K USD active deposit

250K USD turnover bonus: 5K USD withdrawable + 2.5K USD active deposit

500K USD turnover bonus: 10K USD withdrawable + 5K USD active deposit

1MIL USD turnover bonus: 20K USD withdrawable + 10K USD active deposit
Your account will automatically be upgraded immediately after conditions are met.
Summary
Pegasus.cx runs its website on an originally designed template. As for deposit and withdrawal steps, it is very simple in this project, so I will not publish the picture tutorials, when depositing, you don't need to choose an investment plan, because there is only one plan by default, you just click the "Deposit" button on top menu after login, and then transfer money to complete your investment. I think there will be more language added in the future, but currently, Pegasus only supports English. You can add up to 10 withdrawal addresses. Currently Pegasus supports Bitcoin only. After adding a new withdrawal address, withdrawals will be held for 24h for security reasons.
6% of the fee Pegasus charged on every deposit & withdrawal will be redistributed evenly among each user who has an active deposit. So besides the daily profit, you can get this extra income on your account. Login your account and you can see it on the Dividends area:

Register: https://pegasus.cx/auth/register/?ref=jlK5emR0R5q
---
2022-03-25: Pegasus added new payment options: BNBMAINNET(BEP2), SOLANA, EOS, CHAINLINK, POLYGON MATIC, KLEVER, PANCAKESWAP, SHIBA INU, WAVES, POLKADOT, ZILLIQA, TEZOS, CRYPTO.COM COIN.
2022-03-28: Pegasus launched team leaders referral system, and you can read the details in its review above.
2022-05-27: Pegasus made some updates today, please check below:
(1) New dividends system has been implemented. The more you invested, more dividends you get.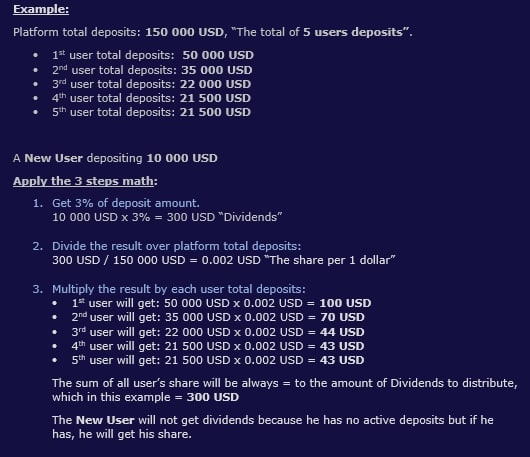 (2) The error after withdrawal caused by our hosting not us, we are waiting for them to fix it.
(3) The lag on home panel caused by the huge file of old dividends pages loading each time with every user. We removed them from loading.
(4) Rewards (new feature) is working but not yet coded on backoffice. Each week the winners will get an email. More details tomorrow
2022-06-07: Pegasus officially launched today, and the minimum deposit amount is raised from $50 to $400 currently.

HYIPer.net » Pegasus.cx Review: 1.5% daily for 200 days and principal included