Oakfields.biz is an online investment project which provides medium term deposit plans. The admin bought Standard listing on my monitor two days ago, my first withdrawal request was processed instantly to my PerfectMoney wallet yesterday. Now let me introduce it to you.
Already scam, don't invest!
Investment Plans
Invest 20-200 dollars, earn 4.5% each calendar day for 30 days and principal included

Invest 201-2000 dollars, earn 5.0% each calendar day for 30 days and principal included

Invest 2001-50000 dollars, earn 5.5% each calendar day for 30 days and principal included
These are all the plans Oakfields.biz offers. You can break even within 18-22 days. Now let me take the first plan for example. If you deposit 100 dollars, then you wll earn 4.5 dollars per day and you can withdraw your daily profit anytime you want, after 22 days since your investment, you will get back your 99% of initial capital, nearly break even. Starting from the 23rd day, you will earn net profit without any risks. During the whole investment period, you will earn 135 dollars totally, namely $100 principal with $35 profit.
Payment Options
Oakfields.biz accepts PerfectMoney, Payeer, Bitcoin and Ethereum. You can choose any ecurrency which is suitable for you.
Withdrawal Type
All withdrawal requests will be processed instantly. Minimum withdrawal amount for fiat processors like PerfectMoney and Payeer is 1 USD. Minimum withdrawal amount for BTC and ETH is 5 USD.
Referral Commissions
Oakfields.biz offers two types of affiliate programs. One is Regular affiliate and the other is Representative program. The regular affiliate program offers 3 levels of commissions 6%, 2%, 1% and representative program offers 3 levels of commissions 8%,3% and 1%. Any new member automatically becomes a regular affiliate after registering an account in oakfields estate. However , you need to apply separately for becoming a representative. To become a representative, you simply need to fill up the "Apply Representative" form in your member panel. If approved by Oakfields.biz, you will be convereted from a regular affiliate to global representative and enjoy higher referral commissions. So if you know how to promote HYIPs and have confidence in Oakfields.biz, just do it to make extra money.
Advertised Listing: Standard($250)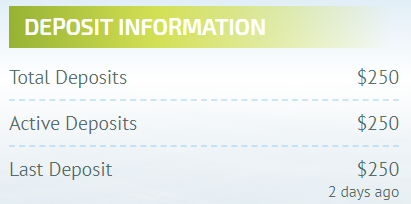 More Information
Oakfields.biz runs its website on an original template which is designed professionally. The admin registered EVSSL certificate from Geotrust company to ensure the safety when users browse the website, at the same time, it registered a UK company certificate which is regularly used in HYIP industry.
At top side of the website, you will find official social medias, such Facebook page, Twitter and Telegram group. You will keep update with more news about Oakfields.biz there, especially the Telegram group, it always provides timely news from other investors. So if you don't have a Telgram account, I suggest you to registered one and join it. Don't forget to share your opinion and payment proofs there.
These are all what I want to talk with you about Oakfields.biz, if you have more opinion about this project, welcome to comment your valuable views below this article.
HYIPer.net » Oakfields.biz Review: 4.5%-5.5% daily for 30 days