CoinTERRA is a high yield investment project which started on 14th June. It provides medium and long term deposit plans, and one investment cycle is 10-90 calendar days. I invested 16 days ago and all withdarwal requests were processed successfully. CoinTERRA has its own token based on BSC contract. For more details about the project, please read full text below.
Started: 2021-06-14

My Deposit: $200

Investment Plans: 108% After 10 Calendar Days; 4.5% Daily For 30 Business Days; 25% Weekly For 6 Weeks; 110% Monthly For 2 Months; 120% Monthly For 3 Months

Referral Commissions: 8%-3%-1%-1%

RCB: 8% of your deposit amounts

Payment Options: PerfectMoney, Tether, BTC, LTC, ETH, DASH, XRP, DOGE, BCH, BNB, TRON, TERRA, Cardano, Polkadot

Withdrawal Type: within 24 hours

Minimum Withdrawal Amount: PerfectMoney - 0.10 USD; Bitcoin - 0.0005 BTC; Ethereum - 0.003 ETH; Litecoin - 0.03 LTC; Dash - 0.03 DASH; Ripple - 5 XRP; DogeCoin - 10 DOGE; BitcoinCash - 0.01 BCH; BinanceCoin - 0.01 BNB; Tether USDT - 1 USDT; USDT TRC20 - 1 USDT; Tron - 50 TRX; TERRA - 100 TERRA

Social links: telegram channel; Twitter; Facebook; Youtube

Languages: all global languages
Investment Plans
Deposit $25-2500, earn 108% after 10 calendar days
Minimum deposit $25, earn 4.5% each business day for 30 business days and principal included, total 135%

Minimum deposit $25, earn 25% weekly for 6 weeks and principal included, total 150%

Minimum deposit $25, earn 110% monthly after 2 months, total 220%

Minimum deposit $25, earn 120% monthly after 3 months, total 360%
Referral Commissions
8%-3%-1%-1% for common registration members, and 14%-4%-1%-1% for representatives.
If you want to become a representative, you can apply from "Important Links" at the bottom of their website. But you should provide social media or your own website/blog link where you will promote CoinTERRA. After admin approves your request, you will become an official representative. You can find current representatives in several countries from the "Representatives" section.
TERRA Token
TERRA token is running on the the BSC(Binance Smart Chain Network). The smart contract address is: https://bscscan.com/token/0xef3c9eb045f612d9a46f006862fb76aa253c46ff

Now the token price is $0.005, and the minimum purchasing amount is 10000 TERRA. According to its website saying, TERRA token will be on market on 30th August, and predicted price is about $0.01. However, whether the token price will go down or up when it is available for public sales at the end of this month, I think nobody knows. So never spend what you can't afford to lose.

How to invest?
❶ Click this link to register an account:
❷ Choose payment method, tick the plan which you will invest: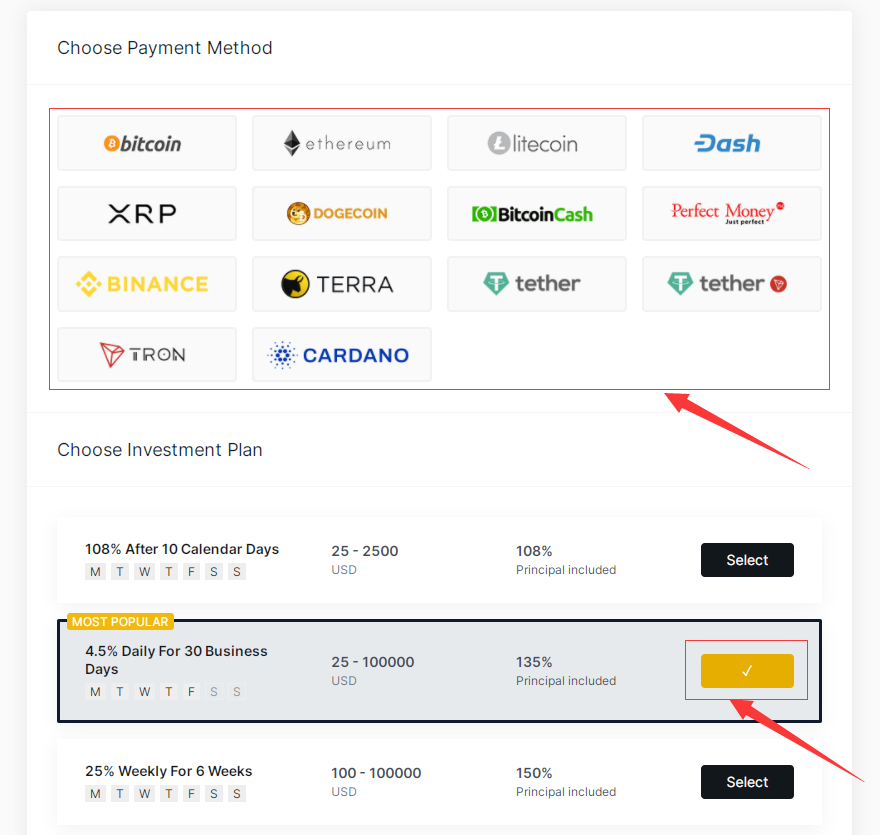 ❸ Type into amount, tick the Privacy Policy, click the 'Invest" button to complete investment: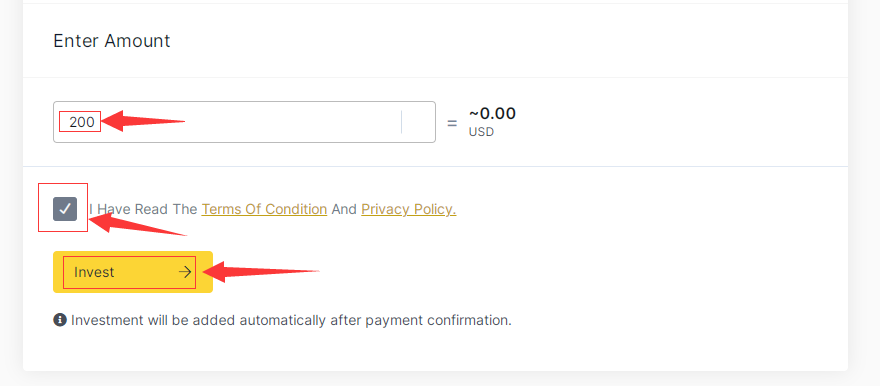 Summary
Cointerra runs on an original and professional template. This is a well designed project with reasonable profit plans, and these are the main reasons I joine it. I chose the weekly profit plan, and now I already get two devidents which equals to 50% of my inital deposits. I don't plan to reinvest into Cointerra before this deposit cycle expires, and I will notify you on my website if I decide to reinvest when current deposit expires.
---
2021-08-16: I break even in CoinTERRA today. From now on, all withdrawals are profits. Thanks CoinTERRA team.
2021-08-19: CoinTERRA added more payment options now. You can check in its review on my website.
2021-08-24: CoinTERRA is changing withdrawals policy. From now they start to pay 7 days per week (Monday to Sunday). Withdrawals will take from few minutes to 24 hours.

2021-08-31: CoinTERRA token will be listed on TARMEX exchange on 1st of September. You will be able to DEPOSIT/WITHDRAW TERRA tokens. On 2nd of September TERRA token will be fully on the market. Price will start from ±0.012 USD. TERRA will start with one trading pair BNB/TERRA and TERRA/BNB.

2021-09-01: CoinTERRA added USDC for deposits and withdrawals.

2021-09-03: Four days ago, I updated that CoinTERRA token will be listed on TARMEX on 1st Sep. We can imgine that most investors will sell the token once it is listed on exchange, because everyone wants to sell at a high price before others. As a result, price of TERRA token will decrease very fast, and now it is only $0.00000271. Yesterday, admin published a piece of news to token sellers, original content below:
CoinTERRA Team is asking to CANCEL orders on Tarmex.io crypto exchange and let us to restart this! Please do not be so much greedy and do not put everything on SELL. We can go to the MOON but you MUST understand that it is not possible to SELL everything at the same time. Community should grow, let us grow, let TERRA grow up! TERRA the MOON.
2021-09-05:

My investment expires and won't plan to reinvest again, because it is my personal money, not advertisement. Thanks for happy earnings.

HYIPer.net » [SCAM] Cointerra.io Review: 4.5% each business day for 30 business days