Magictree.io is a newly launched BSC project which just started today. It only provides one investment plan, from which you can earn 8% daily for termless, and the minimum deposit amount is 0.1 BNB. The only accepted payment option is BNB(bep20). I just deposited 0.8 BNB minutes ago, now let's see the details. I think their whitepaper describes the Magictree with more details, so I just copy their whitepaper and the tutorial below. I think the information will be more beneficial than myself writing.
1. ABOUT THE PROJECT
Magic Tree is a farming ecosystem based on a new form of cryptocurrency earning in the DeFi sector where users act as liquidity providers (LP) to form the TVL and earn income by farming and referral rewards.
2. WHAT IS THE MAGIC TREE
Magic Tree is a unique marketing model that allows absolutely everyone to receive unlimited passive income and referral rewards, as well as to become one of the first owners of the Trees token, which will be used in the Play-to-earn NFT game. Our team has created not only the fastest and most profitable model on the Internet, but also powered it with relevant, innovative products of the crypto industry. By becoming a part of the Magic Tree, you get the opportunity to earn thousands, hundreds of thousands and even millions of dollars in a few months by promoting high-quality and profitable tools. Our mission is to bring the best crypto opportunities to the market and do it properly
3. EARNINGS
Passive income: Grow the Magic Tree, collect trees and earn 8% of your investment daily.
Affiliate program rewards: Invite partners to grow the MagicTree with you and get rewards from 5 level referral program, which is 12%-8%-6%-4%-2% referral rewards from the profit of invited partners.
4. COMMISSION FEE
5% commission fee for investing and selling Trees. There is no commission fee for reinvestment! We use the commission fees we collect to market and grow our ecosystem.
Strategy
The best strategies is 6/1, there 6 days are spent on reinvestment and profit is fixed on the 7th day. If you withdraw your profits daily, then your daily percentage will fall and you will not receive the highest daily profit. This is an anti-whale mechanism that prevents the whale from depleting TVL.
You can see the profit table here: https://docs.google.com/spreadsheets/d/1ICuYFYeP8mnDzqNs43iOUlEQ3enyUORVuZ2KxjkvBk4/edit#gid=1989924186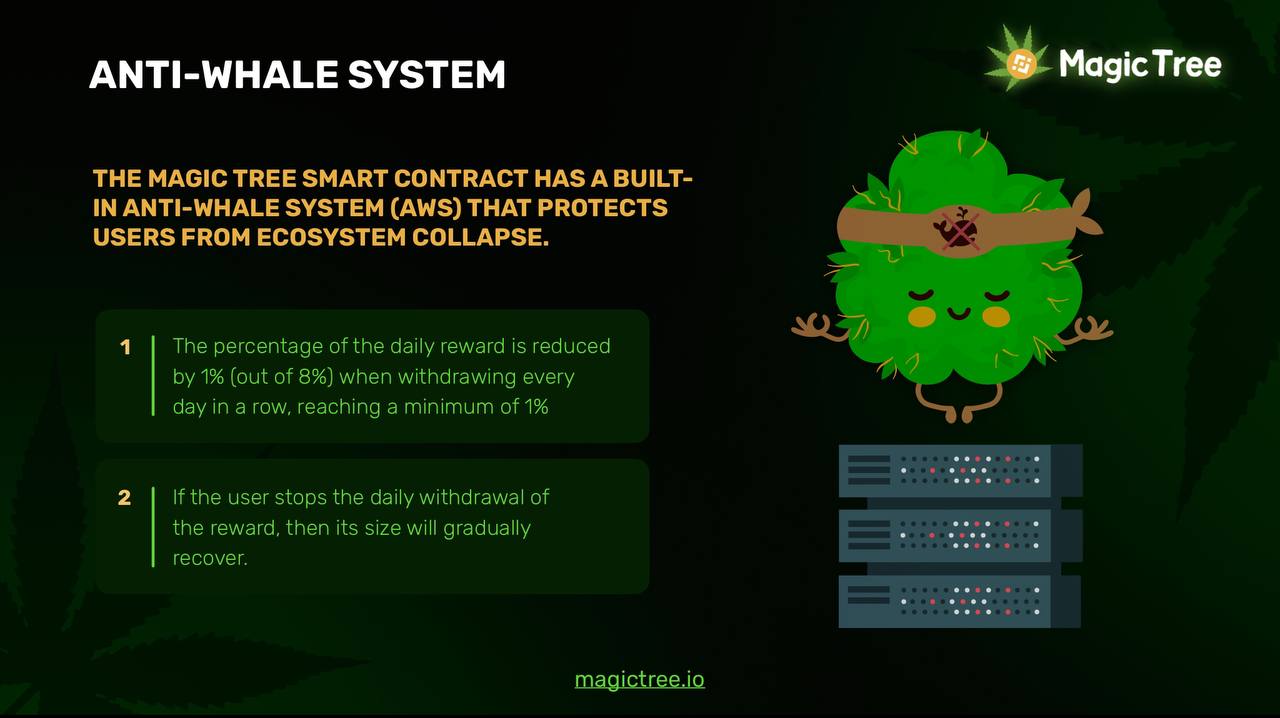 RoadMap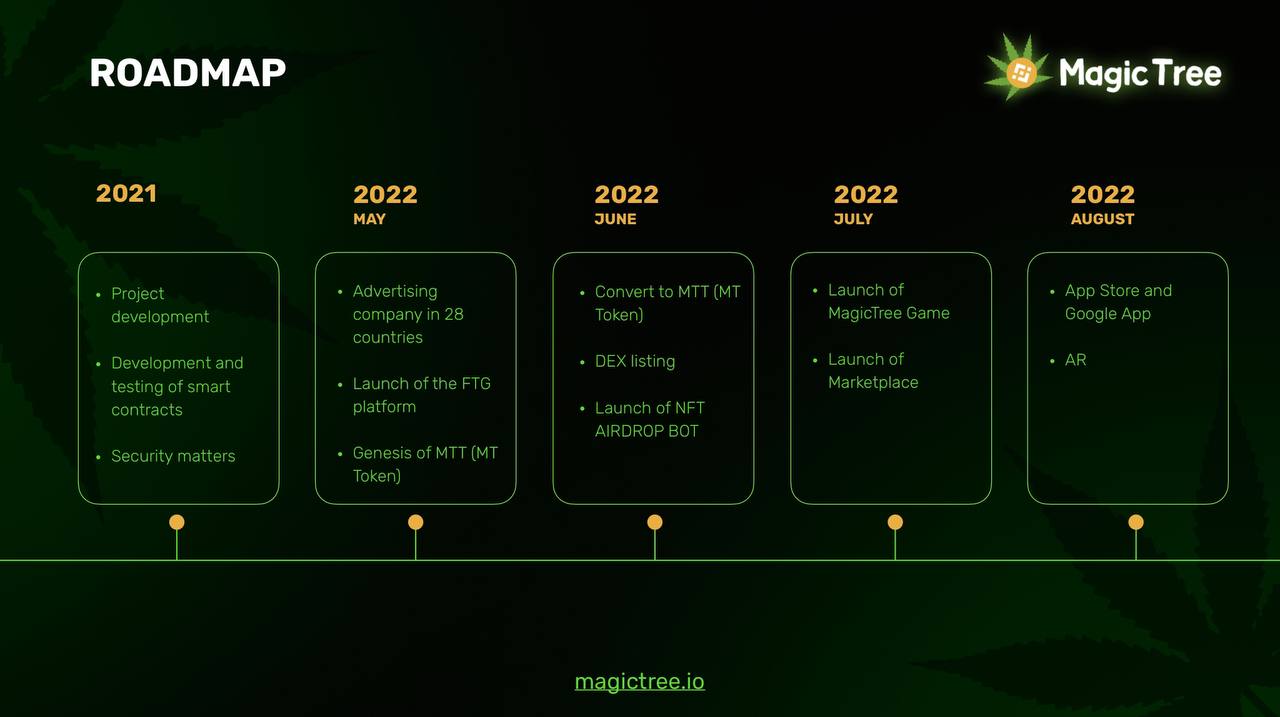 5. How to start?
In order to use Magic Tree you need to have:
Installed Metamask with Binance Smart Chain network
Have some BNB in your Metamask in order to invest
Invest in Magic Tree miner to earn 8% every day
(1) Metamask part
You need to have Metamask installed in order to interact with decentralised applications. Metamask is a simple wallet where you can hold your cryptocurrency, send it to other wallets or invest in projects.
First you need to download Metamask from the official website: https://metamask.io/
Once you have installed Metamask, create a new wallet.
Then you need to add Binance Smart Chain network. The simplest way to do that:
Open https://chainlist.org/ and connect your wallet
Type Binance in search field
Add Binance Smart Chain to your network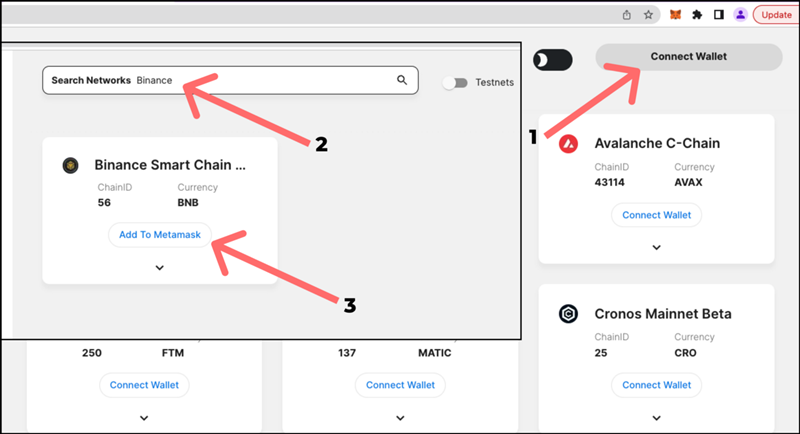 (2) Get BNB(bep20) in Metamask wallet
There are a few options to get BNB(bep20) in your Metamask wallet:
Buy BNB

(bep20)

directly in Metamask using credit card
Buy BNB

(bep20)

on exchange like Binance and transfer to Metamask
(3) Invest in Magic Tree miner
Once you have BNB(bep20) in Metamask you're ready to invest in Magic Tree!
go to
Enter the amount of BNB you want to invest and click "Start Growing"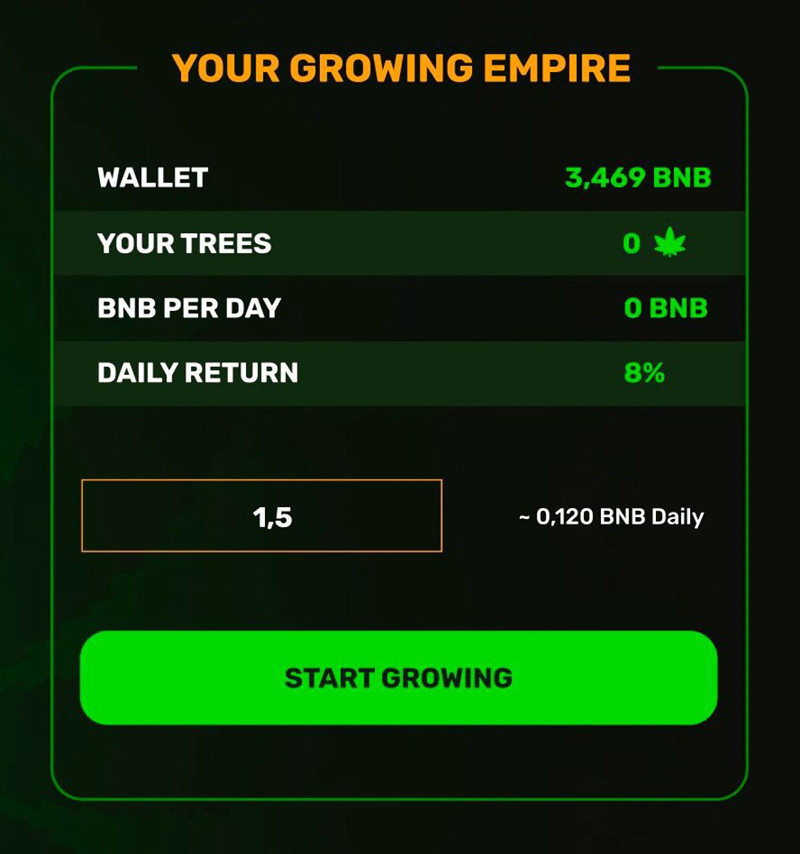 You're done! Now you receive 8% of your deposit every day! You will see your rewards on the website and you can decide whether to re-invest or get your rewards.
Register: https://magictree.io/0xa8c4402f3b3607f75711abb74a71fe2c9bd1c8b3
In order to make your profit even better we recommend to use 6 to 1 strategy: reinvest every day during 6 days and take profits on the 7th day. In this way you can achieve exponential grow of your deposit and income due to compound interest!
48 BNBs profit from 1 BNB in 12 weeks? — it's possible thanks to compound interest!
Check this calculator to see the magic of compound interest —
https://docs.google.com/spreadsheets/d/1ICuYFYeP8mnDzqNs43iOUlEQ3enyUORVuZ2KxjkvBk4/edit?usp=sharing
---
2022-05-29: Magictree has an anti-whale mechanism, where you should reinvest 6 days and withdraw on the 7th day. For more details and data, read the "Strategy" section in my review.
2022-05-30: Magictree have set ambitious goals for this summer:
June:
- Unlocking conversion to the MagicTree token
- MagicTree token listing on decentralized exchanges
- Launch of NFT AIRDROP BOT
July:
- MagicTree game release
- Marketplace launch
August:
- Adding our app to the App Store and Google Play
- AR
HYIPer.net » [SCAM] Magictree.io Review: 8% daily for termless