Secure-investment.net is a HYIP monitor which starts to run in year 2016. I received a piece of bad news about it from a HYIP admin days ago. After some necessary verifications, I arrived at a conclusion that such piece of news is correct. Which is Just as I wrote in the title, it is about fake payout and reinvestment from Secure-investment monitor.
Whether reinvest principal or not by Secure-investment monitor, it will depend on the investment plans. For the plans of "principal included", Secure-investment monitor will not reinvest your principal because it is already in daily payout into their wallets. Such as "4% daily for 30 days" plan, if his investment expires after 30 days, then he will not reinvest from his own wallet and only post fake payment data on HYIP forums. See the attachment below: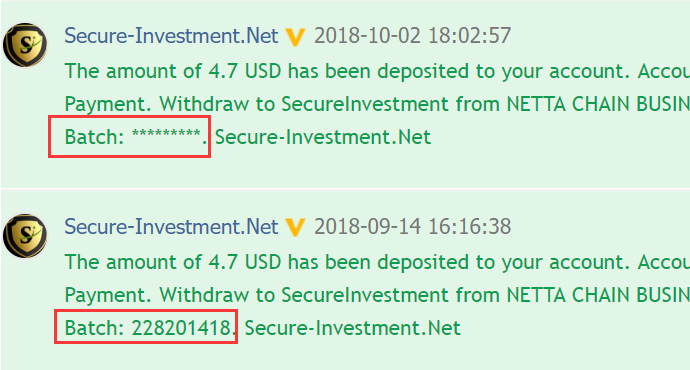 I already marked with red areas. You may already see that the batch on 2nd Oct is blank, because in fact he didn't reinvest when his first cycle expires so that there is no daily withdrawal. But for the batch number on 14th Sep, it is real data because his investment didn't expire at that time. By the way, the data above is from a HYIP program called "nettachain" on hyiplisters.com, its investment plan is "4.7% daily for 30 days and principal included" and you can testify here yourself: https://www.hyiplisters.com/hyip/votes/91518.shtml
But if your plan is "principal back in the end", then he will reinvest principal for listing because the money is only returned to his balance and he can't withdrawal in case of not processed by the program admin. Such as "1% daily for 10 days and principoal back in the end", this plan is safe and don't worry about the reinvestment.
In a word, if your money is still in your currency account, then it is still yours, but if it was withdrew to currency account of Secure-investment monitor, then the money didn't belong to you already because he wouldn't reinvest at all.
As we all know that HYIP monitor has the duty of monitoring payment statuses of a program, but if the monitor admins don't have active investments on their accounts, how can they monitor the right statuses of HYIP programs? So reinvestment is necessary when investment expires for a HYIP monitor, and only correct and real payment data should be posted on forums.
HYIPer.net » Secure-investment.net fake payout and reinvestment data